Here are a few Filipino recipes that I have tried out in my kitchen and would like to share with you. Leave a comment if you have a recipe to share and I will test it. If it's successful (or even if it's not) it may make it on this page.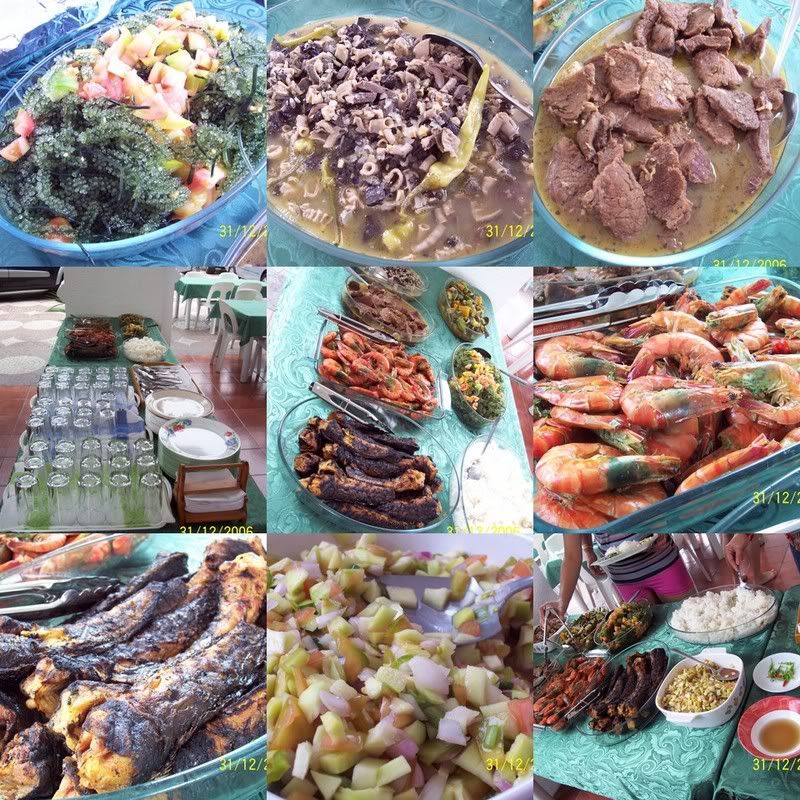 DESSERTS
Sweet Rice with Coconut Jam Topping
Kankanen. Diay inbaliktad nga kunada. No awan ti naaramid mo nga latik, mabalin met nga parabawan ti coco jam.
Rice with Mung Beans Dessert
This is a classic Filipino dessert, ginataan nga balatong. It combines mung beans, sweet glutinous rice and coconut milk for a truly Filipino dessert.
Pearl Tapioca Pudding with Coconut Cream
Ginataan nga sago.
Halo-Halo
No adda ka Canada, minlaka ti agaramid ti halo-halo. 🙂
Pichi-Pichi
Kasla palitaw ngem kamoteng kahoy or cassava ti usarem, saan nga diket.
Peach Royale ala Sassy
Diak la ammo no authentic Pilipino recipe daytoy, ngem ti ammok linuto ti pinoy 🙂
Kasava Cake
No adda kamoteng kahoy yo, padasen yo met daytoy, kasla bibingka.
Classic Leche Flan, CocoFlan & Pumpkin Flan
Tallo a klase ti leche flan. Diay Classic ket isu ti original nga recipe no kayat yo met nga masabalian bassit ti raman na, padesen yo diay pumpkin ken coconut flavor.
Puto & Kutsinta
Diay kutsinta, nagimas. Aglalo no adda kinayod nga niyog. Diay puto saan pay nga perfect.
Bibingka
American style ngem naimas latta.
Bibingkang Malagkit
Shortcut ti inkiwar nga kankanen. Saan makapakettang nga ikiwar.
MAIN DISHES
Beef with Bittermelon Stirfry
Ingisa nga karne ti baka ken parya.
Mungo: Mung Bean Soup
Balatong nga nasagpawan ti bulong ti parya.
Chicken Bistek 2
Kasla met la diay bistek a baka ngem manok.
Chicken Bistek
Nagimas ngarud ket namindua mi a pinadas.
Filipino Bistek
Daytoy ti orig nga bistek.
Homemade Pork Tocino
Padasen yo ti agaramid ti 'homemade' tocino. Baka mabalin yo pay pag negosyohan.
Sassy Sarciado
Sarciado nga karne ti baka.
Pork belly braised with shrimp paste
Binoggoongan nga baboy. Aye, maka pa high blood apo, ngem min imas. 😀
Pinakbet Tagalog
Ingisa nga pinakbet daytoy. Sumarunon to diay Ilocano style nga pinakbet. No adda recipe yo ti inabraw ibaga yo man please ta padasek met.
Fish Escabeche
Prito nga sida nga adda sweet & sour sauce na.
Ampalaya (bitter melon) with Eggs
Sarciado nga parya ken itlog. Naimas saan la nga pammigat.
Chicken Adobo with Potatoes
Adda adobo recipe yo nga masabsabali? Ikabil yo man ditoy comments ngarud ta padasek met.
Chicken Adobo
Maysa pay nga recipe ti adobo.
N.C. Barbeque a cousin to Sisig
Kasla timpla ti kilawen ti awagen da nga N.C. Barbeque ditoy ayan mi. Tinadtad nga lechon.
Roast Pork
Oven lechon.
Pink Tinola
Napintas no pink, ngem no saan mo kayat ti pink, papaya ngarud ti isagpaw mo.
Chicken Tinola
Saan nga roja, ngem awan met latta ti papaya na.
Shrimp & Vegetables Sinigang sa Miso
No adda bangus, naim imas pay.
LP11 – Ginisang Sayote (Pork & Chayote Squash Saute')
Uray nagum umaan yo nga sayote idi, ket nagimas no nabayag nga saan mo naramanan. Nakarkaro pay no sagpawam ti Ligo sardines sa adu ti digo na.
Sayote with Bagoong
Awan recipe na daytoy, ilambong mo la ta sayote saka ideppel ti boggoong.
Ligo Sardines Sauteed with Bok Choy
Daytoyen tay ingisa nga Ligo ket petsay.
Paksiw na Bangus
Agapuy ka ti adu nga innapoy. 🙂
Garlic Fried Chicken by Asi
Prito nga manok nga nai-uper ti suka nga immuna.
Potato & Ground Beef Torta
Naimas lalo no adda mafran nga kadwa na.
Salmon & Eggs
Sarciado manen ngem salmon met tatta.
When the Goat is Away (Chicken Kilawen)
No awan kalding nga maparti yo, mabalin met nga kilawen ti chicken ket.
Spareribs in Sour Soup (Sinigang)
Basta kimmagat ti alsem na ken adu ti digo na, mabalinen!
LP2 – Meat Ball Soup
Albondigas ti awag da. Naimas no nalamek ti panawen.
Drunk Shrimp ala Ting
Nabartek nga pasayan. 🙂
Sinigang na Hipon (Shrimp in Sour Soup)
Ket no saan yo met type ti bartek nga pasayan, ket alseman yo ngaruden a ta adda pay maigop.
IMBB 11 – Sinigang na Pata
Aye, sinigang manen!
Shrimps in Coconut Milk
Ket no saan mo kayat ti nabartek wenno naalseman nga pasayan, di ikkam gitta na.
Pinapaitan
Daytoy a ti luto ti ilokano!
Snails Ilokano Style (Leddeg)
Adda met leddeg uray ditoy amerika piman.
Ginattaan nga Paltat (Catfish in Coconut Milk)
Naimas nga isigang ti paltat ngem no kayat mo, mabalin met nga magettaan.
Pork Apritada
Apritada nga baboy.
Chicken, Tomatoes, and Pineapple Stew ala Sassy
Chicken manen, kunam? Ket padasen yo a daytoy sabali nga luto ti chicken.
Pig's Feet Paksiw
Paksiw nga saka ti baboy.
Humba (Rib Ends Braised in Green Tomato Chutney)
American version ti putahe nga kapampangan.
Anger or Nilaga
Inanger nga oxtails with potatoes and vegetables.
NATNATENG (Vegetables)
Sauteed Bittermelon with Oyster Sauce
Ginisa nga bunga ti parya, awan sagpaw na nga karne. Pang vegetarian.
Grilled Vegetables
Tinuno nga nateng.
Green Beans, Tomatoes & Cilantro Salad
Salad nga utong, kamatis ken cilantro. Naimas no adda buggoong ken kalamansi na.
Lola's Kamote Salad
Salad nga uggot ti kamote.
Kamote Tops with Olive Oil and Garlic
No nauma kayon ti Kamote salad, padasen yo nga igisa, Italiano style.
Gising Gising
Ginattaan nga utong. Lubias, mabalin met.
Collard & Beet Greens in Coconut Milk OR Swiss Chard in Coconut Milk (Laing)
No awan bulong ti aba, mabalin met nga gittaan uray ania nga bulong.
Dinengdeng
Pasensyaan yon a toy dinengdeng nga kurang kurang ti recado na.
Inlambong nga Sayote
Ideppel mo la ti bogoong, mabalinen.
Ginisang Sayote
Mabalin met nga igisa ti sayote no kayat yo. Naim imas pay no masagpawan ti Ligo sardines.
MERYENDA (snacks)
Siopao Adobo
No adda tedda nga adobo, mabalin yo aramiden nga siopao. Naimas met uray no ania nga palaman ti kayat yo nga ikabil.
Cantaloupe Juice
Naim imas ngem lemonade.
Bibingka
Mabalinen no makaramraman ka unay.
LP8 – Corn Suman with the Clone
Sinuman nga mais.
Pansit Bihon
Saan la nga meryenda, mabalin met nga ipangan ti innapoy para 'main dish'.
Guinataan
Tambotambong kuna tayo ditoy.
Lumpia
Nalaka laeng agaramid ti Lumpia. Uray ania ti ipalaman, mabalinen.
Green Mangoes
Awan met recipe na. Makapakatay la nga lagipen. 🙂
Shumai
Recipe ti intsik ngem kayakayat met ti Pilipino.