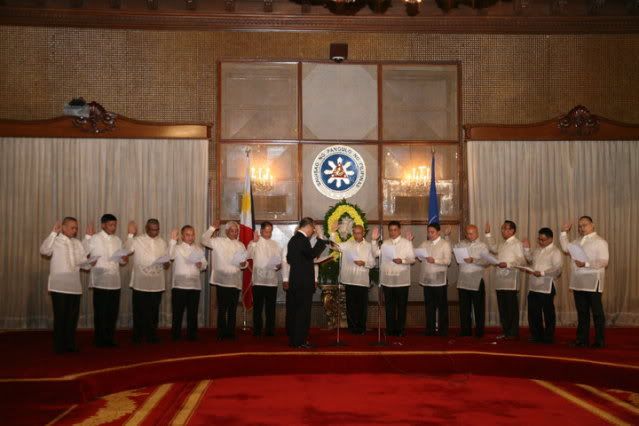 "I AM REALLY PROUD OF MY YOUNGEST BROTHER!" says big brother Aniceto Collado Castro, RPCS, USN (RET), of Col. Nestor Castro who was recently inducted by President Benigno Aquino as Chief of Administrative Services for the Department of National Defense.
The following is an introduction by Aniceto Castro of their illustrious family:

Nestor is the youngest son of the late Cecilio Morente Castro and Marcelina Sales Collado who raised their family of 8 children in Poblacion Sur, Sison, Pangasinan. The eight children from this notable Sisonian family are: Aniceto (USN, ret. – Las Vegas, NV), Anacleto (corporate lawyer, SLU professor, ret. – Garden Grove, CA), Cristina (medical technician – Atlanta, GA), Ernesto (diplomat – deceased), Eduardo (USN, ret. – Atlanta, GA), Rodrigo (SMC chairman, USPS supervisor – Atlanta, GA), Brigilda (registered nurse, Tampa Bay, FL) and Nestor (Chief of Administrative Services, Dept of Natl Defense – Philippines).

Nestor topped his class from 1st grade Elementary at Sison Central School and all the four years of high school at Sison Carmelian High School Sison, Pangasinan, hence graduated as the class valedictorian.

He received a Presidential invite from Ferdinand E. Marcos to attend the PMA (Philippine Military Academy) and finished military schooling with High Honors. He then spent 25 years in the Philippine Army serving both the late Senator Benigno Aquino, Sr. and his wife, former President Corazon Aquino. He attained the rank of colonel before his retirement. While with President Corazon Aquino, he served as the Presidential Security Adviser to the President and was awarded the Presidential Merit Medal for helping to avert a coup d'etat at Malacanang Palace.

After retiring from the military, he went back to his hometown, Sison, to be a farmer once more – desiring a return to his humble origins. Nestor is a nature lover and a good father and provider aside from being a good soldier and peacemaker.

With the return of another Aquino at the helm of the Philippine government, Col. Nestro Castro has been reactivated to duty as chief of administrative services for the Department of National Defense.

Another notable sibling in this esteemed family, also dedicated to civic service, is the late Ernesto Collado Castro, the Philippine Ambassador to Iraq under Gloria Macapagal Arroyo.

"He is my ever-caring and civic minded youngest brother and I am his ever-supportive oldest brother, a retired U.S. NAVY, Senior Chief Petty Officer and a former Elementary School Teacher in Las Vegas, Nevada, USA."
ANICETO COLLADO CASTRO, RPCS, USN (RET)

Photos and video 'borrowed' from the Facebook album of Nestor Castro.