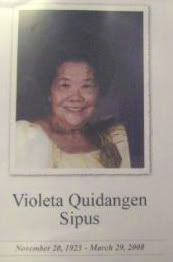 One of the beloved mothers of Sagunto, Mrs. Violeta Quidangen Sipus, went on the greatest of all journeys on March 29, 2008. Her extended family and friends gathered for a final farewell on April 11 and April 12. The tribute was worthy of someone so beloved. Here is a short excerpt from her biography:
To Violeta Quidangen Sipus the whole world was a stage. An expressive, optimistic and uninhibited individual, she was a performer in the theater of life. To everyone around her she seemed to be eternally happy and willingly shared that joy with anyone whose life she touched. To Violeta, bringing out the best in any situation was as easy as offering a smile, a witty remark or the twinkle of an eye. And with just those simple gestures she could evoke the most pleasant of emotions. Violeta really mastered the art of living and had great fun in doing so.

Violeta was born on November 20, 1923 at home by a village midwife in Sagunto, Sison, Pangasinan, Philippines. Her parents were Vicente and Modesta Quidangen. Violeta was raised in Sagunto, Sison, Pangasinan, Philippines. Even as a child Violeta had the ability to lift the spirits of all those around her. She was raised to be warm, caring and friendly. She couldn't help but capture everyone's attention. She was definitely a little bit of a show off, but in doing so she succeeded in entertaining her entire family.

From the viewing/wake on April 11, 2008:

From the funeral and following reception on April 12, 2008:

Photos courtesy of OPGlasser & SPasibe