I'm so excited to read about the new Sison Library, most especially the kid's corner with the new supplies of donated books from Mayor Cojuangco's US supporters and friends. If you haven't read about it yet, visit the Sison website for the article.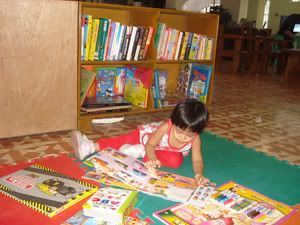 Talking about libraries, the Sagunto Friendship Association of London headed by Mr. Judee Digay are currently supervising the creation of our very own Sagunto Library that will be housed in the community hall ("Abong"). It is so exciting to think that the barangay will soon have a place where the children can learn and read in peace. If you would like to donate books for the library, please contact the SFAL President at rdigay@sfal.org.uk or click on the Friends of the Star link on the sidebar of this website.
A mind is a terrible thing to waste. Let's give the children a bit of a hand to ensure that their minds are not wasted.