Saguntonians, don't forget to send your donations for the tribal council's request for gongs, tambor and costumes. They are doing their part by promoting and learning more about the tribal culture, let's do our part by helping them achieve their goals.
Following are Emily's personal insights about the seminar and more photos: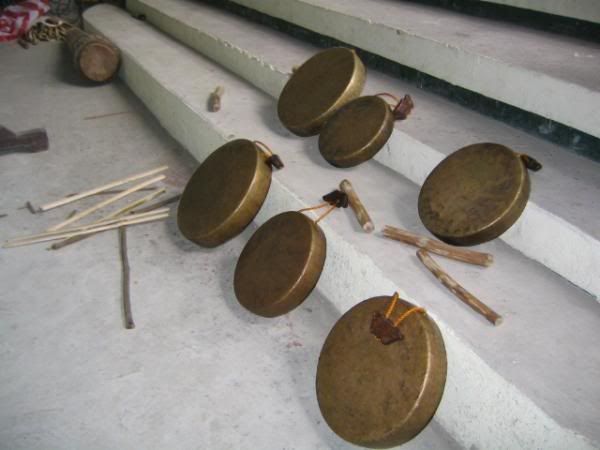 Tribal Seminar
My personal insights….

A good twist from the sensational witchcraft brouhaha
Tapno matay dayta nga pagsasaritaanen, kasapulan nga mangirugi ti baro nga aktibidades. Itaktak mo nga kunada, isunga ala ngarud iyugyog yo tapno dagita nga energy nga nakaaramid ti tsismis rumuar da amin. Hey, mayat koma no every summer nga agpupudot ti tao, ado latta ti proyekto nga mairugi.
A worthwhile activity that connects church and community
Ta ipapilit met gamin ni Pastor Doods nga ag lead kami ti maysa nga project to observe the UCCP Centennial celebration, daytoy nga undertaking ket na conceive…and I thought the CYAF younger people's group was the ideal team to initiate it. I realized that the more church activities are laid open to the bigger community, the better communication and relationships are attained. You've got to have an ecumenical and friendly gathering to maintain closer cooperation. A little undertaking could be a giant step…ano sa palagay nyo?
Council members and Tribal leaders are always eager to attend activities like this. Ni kitaen yo, saan laeng nga ti CYAF ti nag renew ti bonding da, uray met gayam dagitoy lallakay ken babbaket nga leaders ti tribes ken church orgs from Labayug to Asan Norte, to Saytan ket nalaka nga mainvite. Agururay da gayam ti kastoy nga events. Ms. Secretary Irene E. Culbengan, kindly helped me list the organizations that attended (pls. Adda kaniayo dyay attendance sheet). For one, nag request ni Tribal Chieftain Wag-e tayo kadi ti kastoy nga panagadal ti instrumento isunga nai connect daytoy iti community.
Tradition and Culture have long been neglected. Nagado ti naadal mi.
Apay nabaknang tay gayam ti napintas nga kultura nga mabalin nga maaywanan para kadagiti sumaruno nga henerasyon. Kuna dagiti organizers, agaramid kami ti separate sites para mai upload ti DVD versions na dagitoy nga pictures ti seminar tapno uray adinno ti ayan yo, makipagadal kayo. Teka muna, nahihirapan akong i convert itong tapes ko into digital info. Babot and Nette, heeeelp.
The event inspires Micro-business local products making.
Ketno syak, iyawid ko koma amin dagita inbati ni Ofre, ngem maymayat nga kas pangrugian (ta kunana syak makaamon kadagita inted na nga instrument), irugik met ti maysa nga Trad . instrument museum (kuno) hehehe. Mabalin yo nga buluden dagita nga instrument, agsign kay laeng dita logbook ni Edison Benosa. The materials are all indigenous and available locally so mabalin nga pangrugian met ti baro a business. I know many of you abroad would want to own a good set of instruments…so start making orders from our skillful barriofolks. Dukkangkang, sugaypo, kalaleng, palakapak, tongatong, ken dadduma pay. Kitaen yo apo dagita gangsa nga naiteden aggapot UK. Pito da amin nga barbaro, ngem adda pay uppat nga kayat da nga gatangen…Ti Sagunto Tribe… agururay da ti ited yo. Manggeg yon to ti uni dagitoy nga barbaro nga gangsa ditoy site link nga sumaruno…
An opportunity for local leaders to show their concern for our culture.
Makita yo met dagita Brgy council members and tribal leaders nga nag etender nga nakipagadal kadagiti church workers. Maikabil met koma nga agnanayon dagitoy nga traditional concern iti anyaman nga plataporma yo inton sumaruno nga proyekto yo.

Agbiag koma dagitoy nga namnama.

Anyamet ti makuna yo apo? Ibaga yo latta dagita suggestions yo nga makaited inspirasyon para community leaders tayo.